The Dining Experience
In addition to authentic commentary Carribean Cuisine catered by the Door Restaurant, this ship has some amazing specialty restaurants for you to enjoy. You will be treated to an amazing array of flavors and a wide selection of restaurants to suit every mood.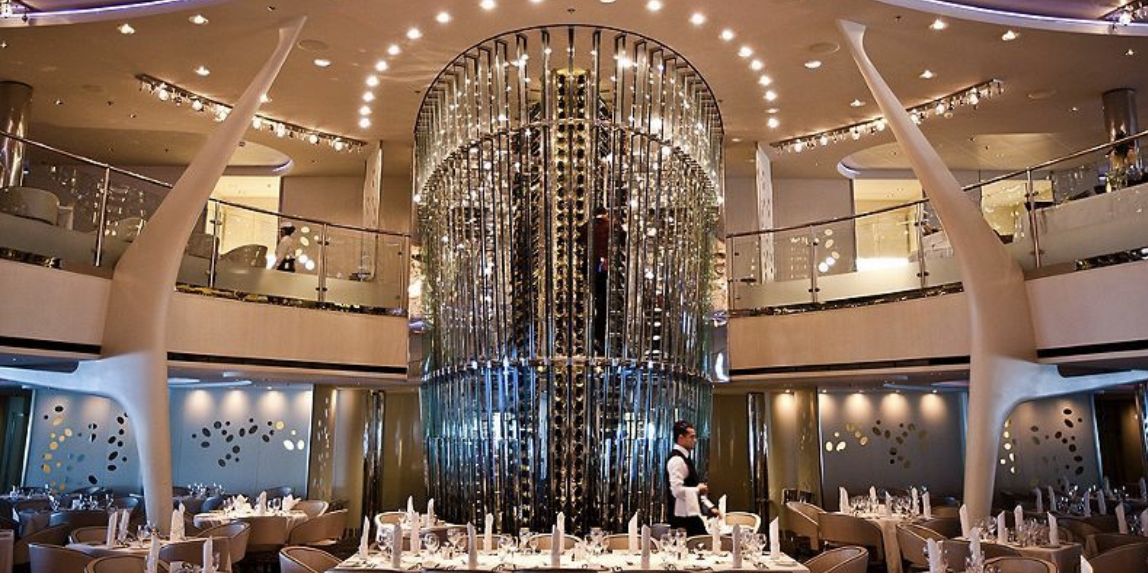 A grand stage for fine dining.
This sophisticated restaurant with a wide range of globally-inspired dishes created by a Michelin-starred chef will provide the fine dining experience you love while you're on vacation. The airy Main Restaurant offers exquisite menu selections, which change nightly to give you a variety of classic and contemporary choices. And the service? Legendary.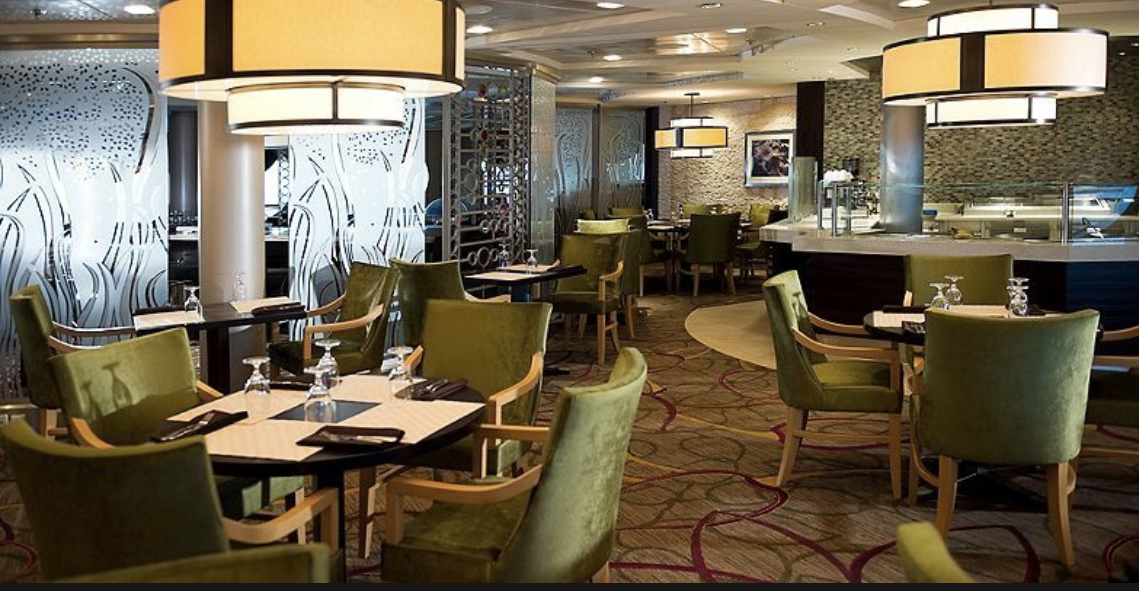 Sushi on Five
Every sushi lovers dream
Sushi restaurants. Wildly popular from the day it appeared, Sushi on Five satisfies your craving for locally sourced, authentically prepared sushi and other Japanese specialties from a menu crafted by expert restaurateur and sushi chef, Yoshikazu "Yoshi" Okada. Treat yourself to the complex flavors of a hand-made sushi roll or nigiri featuring tuna albacore, shrimp, eel, and other fresh selections, or savor the simplicity of yellowtail, salmon, and octopus sashimi. Your culinary experience would be incomplete without dessert—be sure to try the caramelized gingerbread with wasabi gelato.
(Specialty Restaurant – Fees apply)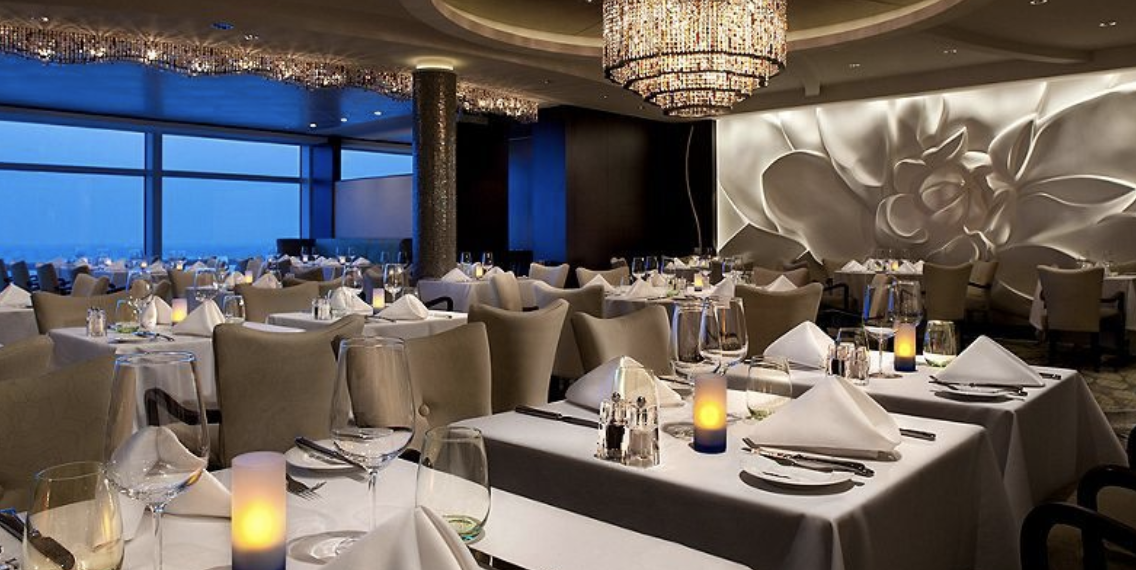 A one-of-a-kind dining concept. Experience the fusion of entertainment and cuisine.
Experience the delight of Le Petit Chef™ at our very own Qsine specialty restaurant. We've brought the table top to life in a fantastic fusion of entertainment and dining.
(Specialty Restaurant – Fees apply)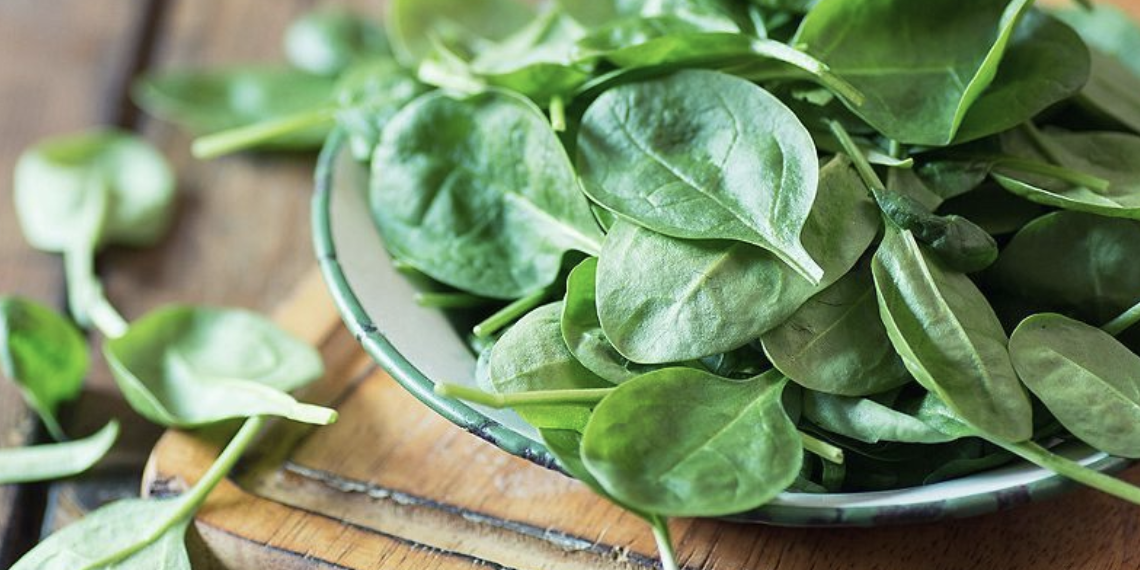 Renew and Refresh.
 Celebrity was one of the first cruise lines to offer a spa restaurant. We saw an opportunity to create an extension of our industry's leading spa experience by introducing the AquaSpa Café. You will be treated with a creative take on healthy cuisine, featuring an eclectic blend of offerings that are both flavorful and good for you. Fresh, spa-inspired delights to nourish body and mind.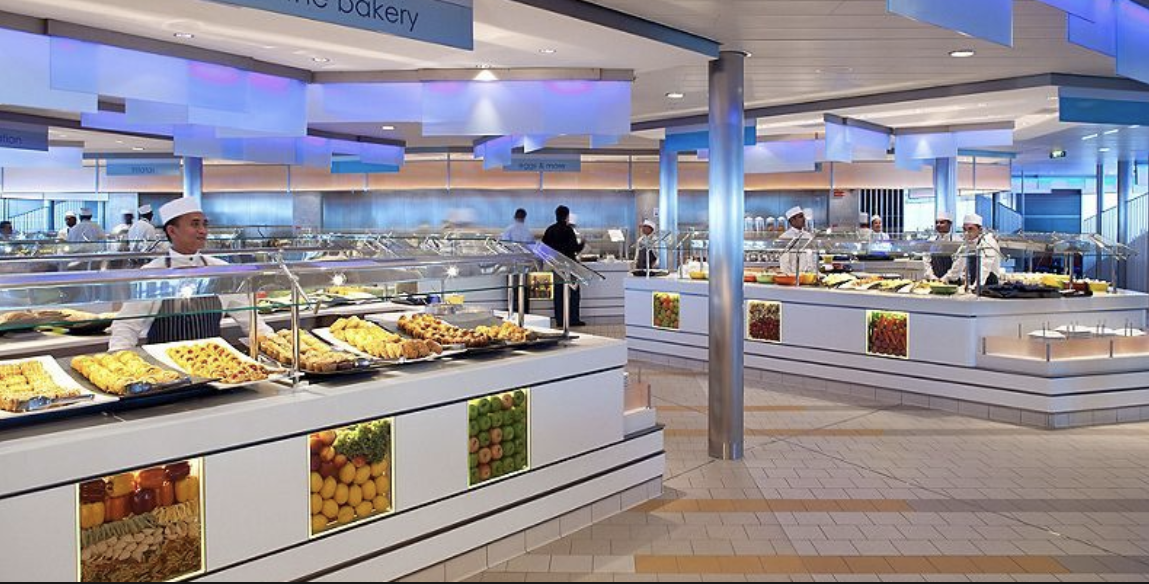 Go on a voyage around the world.
This café's décor and offerings reflect that of an international marketplace. With a menu influenced by multiple cultures, the cuisine takes diners on a voyage around the world. Stations available in the marketplace include made-to-order pasta, stir-fry, pizza, a full salad bar, and a variety of appetizer entrées and desserts. Open for breakfast, lunch, dinner and late night.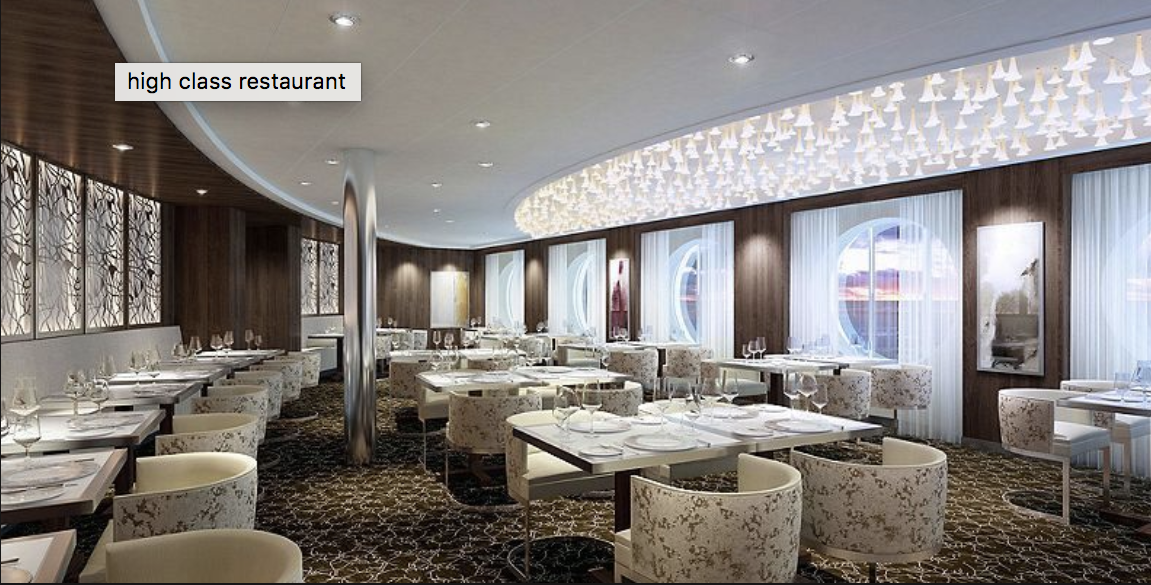 Globally inspired and cutting-edge dining, exclusively reserved for Celebrity's Suite Class.
Exclusive and cutting edge, the globally inspired menus at Luminae are not available in any other restaurant on board. And, you'll see each one only once—because every day features a fresh, new menu.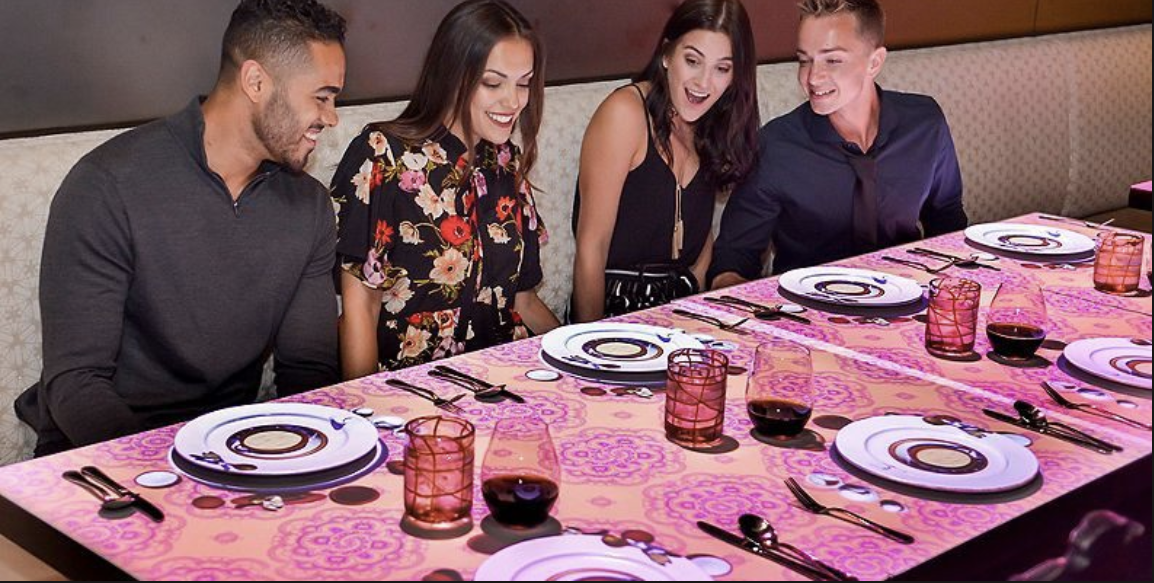 Go on a voyage around the world.
Created by the world famous artists of Skullmapping, presented by TableMation™, your dining adventure begins with the animated Le Petit Chef™ on your plate. He'll prepare each course you'll be enjoying before you're served the actual dish.
(Specialty Restaurant – Fees apply)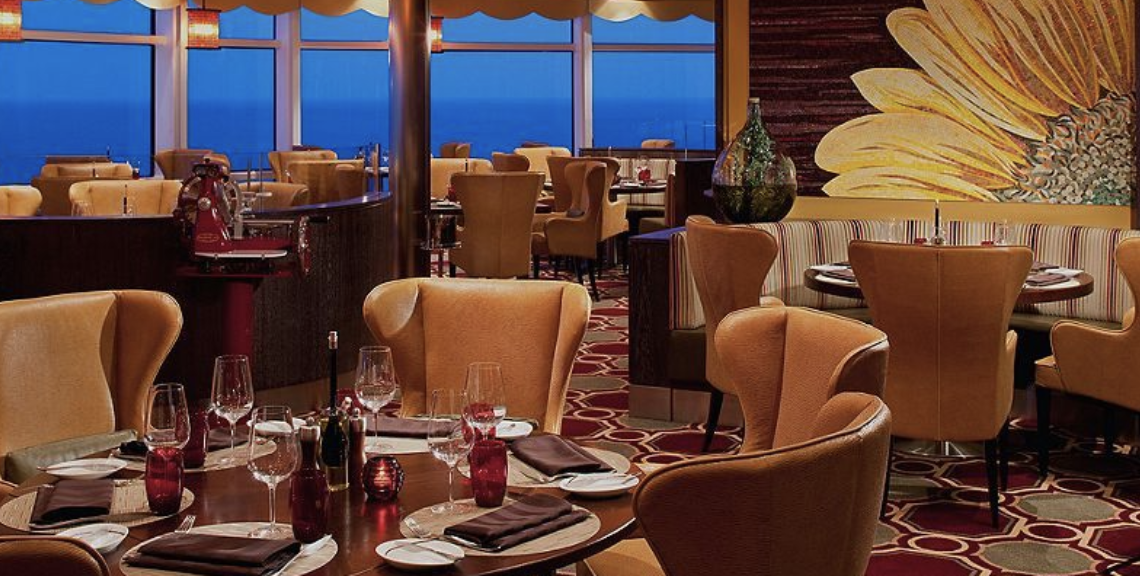 An Italian ristorante and enoteca with a contemporary twist.
Rustic elegance with a contemporary, minimalistic edge. Guests dining in Tuscan Grille will enjoy a lively, sophisticated atmosphere, serving iconic Italian dishes with a modern twist. Our fresh, original menu features handmade pasta, artisanal salumi, fish, butcher cut meats, and USDA Prime dry aged steaks. Our regional Italian wine menu features authentic Italian cocktails and beers, as well as our house-made Limoncello.
(Specialty Restaurant – Fees apply)
Also available, 24-Hour In-Room Dining
Relax and dine in the private comfort of your state room.
(Charges ($) apply after 11PM)